St.Luke's & St Andrew's - Church of Scotland, Bain Square
Old photograph of St.Lukes,
Church of Scotland
.
I spent many happy hours in this church with the 219th BB it was known as Calton New Parish Church and the Rev.Bill Crombie was the minister. The church also looked very different in my era, it had no bell tower and a new church hall had been built, the swingpark was still there though!
Between the swingpark and the church was a street...
.
Frontage of church

St Luke's & St Andrew's (Church of Scotland) Bain Square, Calton:
Sunday Worship at 11.00am
.

This photograph will help you compare old and new photographs.
The bell tower has gone and a new roof and frontage was added. New church hall
The swing park was replaced with a pedestrian landscaped area

May 2005
.
Dec.2007 landscaping all gone .....

.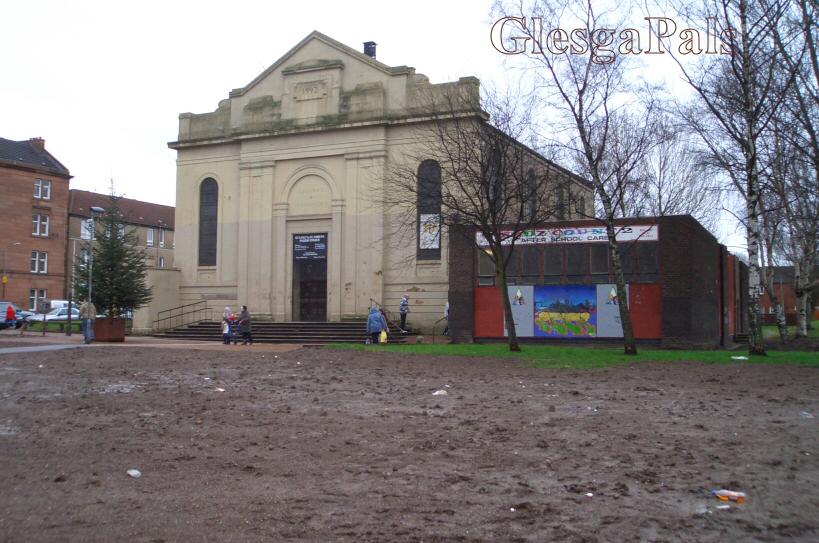 Rev.Leith Fisher sadly passed away on 13th March 2009...
..ah first met Leith when he wis a minister at Calton New Parish church in Bain Square.
This church wis great furr meeting and getting tae know young ministers as it ran the Calton Youth Club and the Rev.Bill Crombie took on a posse of young ministers who worked at the youth club, Rev Leith Fisher, Rev David Lunan, Rev. Robin McHaffie, Rev.Howard Hudson, Rev.Douglas Wallace to name but a few!
We formed a fitba team called Calton Amateurs an' we joined the Scottish Amateur League, division ten if ah remember rightly. ... Leith gote us the youth club bus which we used each Seturday tae get tae the fitba matches. The bus wis driven by Jimmy Robertson brother of Rev.Campbell Robertson from Iona Community House in Clyde Street, Glesca..
We gave it oor all but we w

urr

the w

u

rst team in the league and got

e gubbed

every week 8, 9 and 10 - nothing! Honest!

Leith is the only minister I h

iv

played fitba wi' who go

te

sent aff - red carded by the ref f

ur

r dissent!
Ah wis

a BB officer in th

ey

days an

'

the ministers

aw
got

e

turns t

ae

take services, Leith's church services w

urr

always very good. A very likeable, approachable man, do

o

n tae earth an

'

well liked by everyone, we h

i

d many a great

terr

oan that mini-bus, Leith sitting at the front wi his feet up smoking his pipe hivving a laugh wi' the guys.
Moderator of the General Assembly of the Church of Scotland
2008 to 2009:
The Right Rev David Lunan