Photographs & memories of the famous RANGERS FC
Barcelona Bears
Page1 - Page2. - Page3 - Page4 - Page5
When the Gers got to the final my 'Uncle' Alex Wilson organised the flights and hotel .... we were on our way !!!!
my first flight ticket
arrived in Barcelona on Tuesday 23rd and flew home on Thursday 25th
Our tickets ...
.
FINAL 24 May 1972


There were no programmes produced for the final and I remember coming home with this poster, unfortunately it has been lost in house moves!
.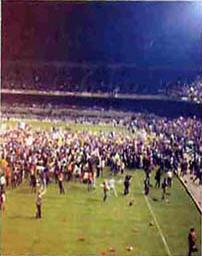 At the final whistle the fans ran onto the pitch to celebrate the teams victory, myself and fellow supporters next to me actually asked the police if it was okay to go onto the pitch - we got a yes. ( I later discovered Spain has different types of police )

On the pitch the fans were singing and dancing as the police tried to move them back for the presentation. At first the police tactics were reserved, but soon batons were drawn as they charged the fans, wildly smashing heads. Pure brutality. No PA announcement had been made in English requesting that the support move back. Luckily myself and friends were at the opposite end of the initial charge and we were able to go back to the safety of our seats. Charge after charge was made between Police and fans until the situation got under control.
.
There is no doubt that the Police provoked the scenes with extremely heavy handed measures in what was a celebratory mood for the Rangers support. After all this was a famous victory for the club – not a defeat, everyone was in a happy party mood.
.........this was my first time on an aeroplane
flying tae Barcelona to see the Gers. The game was fantastic Rangers scoring 3 goals and the Russians never giving up fought back to make it a thrilling final....and a European trophy was won
..
What are your memories of this day....? Send me your tale, remember tell me where you live
April 2007, GlesgaPal SunnyJim, (James Cooke), Toronto, Canada
I went to Barcelona in '72 by bus from Millerston St. thinking it would be a more exciting trip travelling through France and over the Pyrenees in preference to a plane flight but sorry to say it didn't turn out that way, I was sick of the sight of buses when I got back. I loved Barcelona ,beautiful city and would love to return someday. The morning after the game we had a lot of police outside the hotel, just to make sure we got out of town alright
.