Photographs & memories of the famous Glasgow Rangers

Rangers FC 1907-08

Bobby Shearer
Born 29 December 1931 - Died 5 November 2006, aged 74.
Played 407 times for the Rangers between 1955 and 1965
Bobby captained Rangers to their second domestic treble in 1963/64.
A winner of 5 league championships, 3 Scottish Cups & 4 League Cups

Bobby Shearer wi' the Scottish Cup - 1960s
Billy Ritchie, Davie Provan, Ronnie McKinnon, George Mclean, Jimmy Miller

Colin Stein
Born 10 May 1971 in Linlithgow.
Scored in Rangers European Cup Winners 1972 team when they faced what is commonly acknowledged as one of the toughest routes to a European final any team has encountered..
On 2 Jan 1971 during an Old Firm Ne'erday match he scored an equaliser in stoppage time to salvage a draw after Celtic had scored in the 89th minute. Minutes later after full time, barriers on stairway 13 at Ibrox gave way causing a pile-up of supporters and killed 66 fans with over 200 fans injured.
.

Brigton boy 'Fergie' Ian Ferguson
Lived the dream
Born 15 March 1967 in Glasgow transferred to Rangers in 1988 for £850,000
336 appearances scoring 46 goals and a 9-in-a-row winner 1988/89-1996/97. He has 10 Scottish League titles.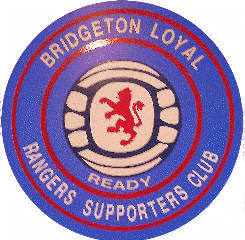 .

Dec.2010, Alex McBride, Glasgow
Many thanks Webmaister..... I keep in contact with Bobby Brown; whom I believe is only one of a couple surviving Rangers from the 1947 team photo. "Bobby Brown - still a legend and a true Ranger" Thank you, Alex
.