Keystane Bar .... Landressy Street, Bridgeton
.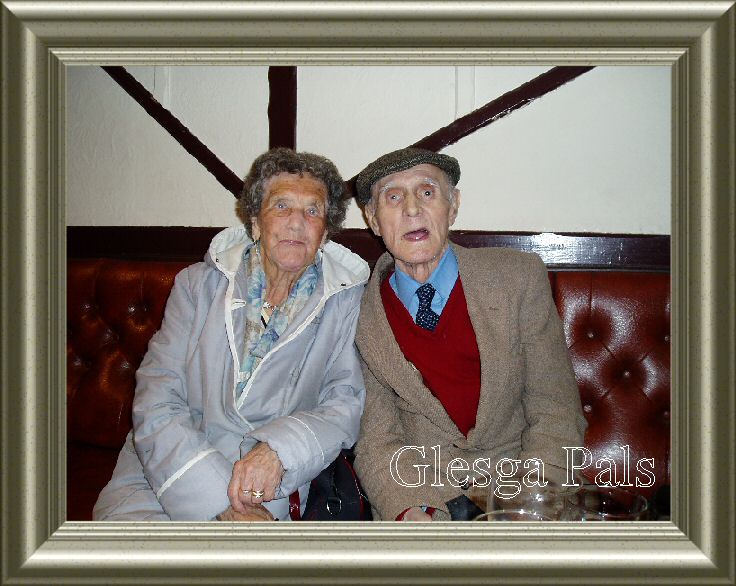 Lizzie Cuthbertson and her wee brother Tommy
Photo taken in the Keystane lounge in May 2005
They lived in Brig'ton all their days
A lifetime entry in Glesga Pals what a fitting tribute from a loving daughter/niece
Lizzie was born in Bernard Street, at the Nuneaton St end, in 1913 and lived there till she married in 1935. She set up home with her husband in Bernard Street, between Marquis St and Dunn St where her three kids were brought up. Lizzie's husband died in 1986.
When Bernard Sttreet was demolished they moved to Sunnybank St and lived there till she went into sheltered housing in Troon Street in 2003. A very lively woman to the end she was a member of St.Francis- in-the-East Church of Scotland at Queen Mary Street for over 40 years.
The family would like to thank The Rev Hudson and Rev Shackleton for the wonderful funeral they gave her
Tommy was born in the same place in 1922. He never married and served in the Black Watch during the war. He worked in the Govancroft pottery for a while after the war. He loved the horses and was always to be found in Ladbrokes the bookies at Bridgeton Cross. He moved to Troon St. after Bernard Street was torn down and for the last few years lived in Carmichael House, which suited him fine...... as it was just a short walk to the Keystane and Ladbrokes.
Jan.2006, extract from messageboard, May Ballantyne (nee Cuthbertson), Oshawa, Canada
First I want to wish everbody a "guid New Year"
Sadly I want to tell you that Brigton has lost two of it's old timers......
My Mum Lizzie Cuthbertson also known as wee Lizzie Hall Died peacefully on 4th October at 92 and her wee brother Tommy died 10 days after her he was 83.
Both lived their entire lives in Brigton and were long time regulars at the Keystane in Landressy St.
I'm sure the are missed as much by their friends as they are by me and the family & Tommy's best pal Jock
..
..