| | |
| --- | --- |
| | 175th Glasgow BB, Bridgeton |
.

A social history of the BB in Glasgow
photos and memories preserved on GlescaPals for future generations.
www.glesga.ukpals.com
.



TIMELINE
The 175th Glasgow Company, the Boys Brigade was formed 29 April 1919 attached to Calton Mission Church

In session 1927-1928 the company's church changed to Dalmarnock Congregational Church

# In session 1967-1968 the company amalgamated with the 241st Glasgow and became the 154th Glasgow BB

In session 1974-1975 the company closed


# 175th BB Dalmarnock Cong Church, Fairbairn Street, amalgamated with the 241st BB Bethany Hall Church

.
Click on photos to enlarge ............................I'm looking for old photos from this BB & Church.

Cricceith 1966
My first BB Camp

(no photos)

Newcastle N.Ireland
BB Camp
.
Dalmarnock Congregational Church
Dalmarnock Rd. jcn of Fairbairn St. Rev.Beaton


I have many fond memories of this church.
Great times.
Sunday school,
Shipmates,
Life Boys,
Church parades,
BB Displays
dances with the Girls Brigade,
football in the hall.......


( now a evangelical church ) (Photo taken Feb 2002 )
I attended Sunday school here and was a member of the Boys Brigade (175th).
Mr John H Smart was the Captain, then his son Robert Smart became Captain.....great guys. They and others gave up their time to look after us every week, football on a Saturday, church on a Sunday.
These BB officers men and woman were the salt of the earth. Mr.Cassidy, Mr Milligan, Miss Polly, Miss Smart are officer names I recall.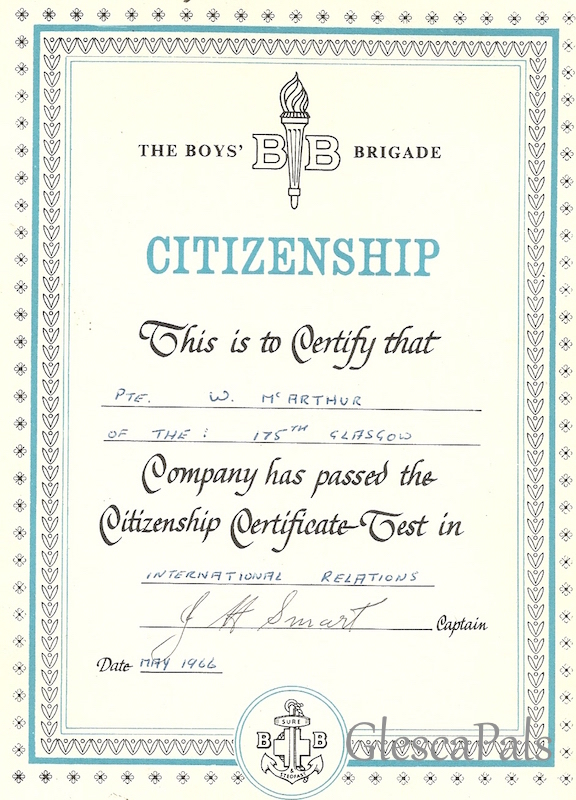 I learned to 'go a bike' at Millport, a day trip there with the Lifeboys!

The 175 company amalgamated with the Bethany Hall BB to become the 154th.
I continued with the BB, became an officer in the 219th Company in the area using John Street Primary school then Dalmarnock School as our Friday night meeting place until I was in my thirties, thereafter our company like many others disbanded, as the area was being demolished.








Autumn 2022 Article

See PDF file (1.4Mb)

It is interesting where the walk of life takes you and the

people

you meet during that walk.

One of the problems of coming from an area that has been demolished, beyond recognition, is that you lose all your friends, lose touch with old neighbours - a big chunk is taken from your you.
My street was demolished in the early seventies and we moved to Auchenshuggle. Since then I have seen very few old neighbours or pals. On the 30th July 2006 I was visiting the Peoples Palace when to my joy I spotted my old BB captain and his wife!

Marie & Robert Smart.


They now live in the Garrowhill district of Glasgow and we had a good blether and exchanged contact details it was great to see them after all these years.
.




As RWM of Lodge Burnside 1361 I attended masonic Lodge The Bridgeton Glasgow Shamrock & Thistle No.275 on

Friday 13 Sept 2013

to see PM

Jim Cassidy

(Treasurer) receive his 50 year diploma.

Jim was my BB officer 50 + years ago when I was a wee boy in the 175th BB in Bridgeton

I was delighted to be asked to reply on behalf of the visitors and gave them all a big surprise when I produced and put on my original BB hat!!

Lodge The Bridgeton Glasgow Shamrock & Thistle No.275
Donations gratefully received towards the running costs.
A lifetime honour and timeless photographs on the web