219th Glasgow Boys' Brigade, Bridgeton
19th Glasgow Boys' Brigade, Castlemilk

219th Glasgow BB, Bridgeton & 19th Glasgow BB Castlemilk joint camp
.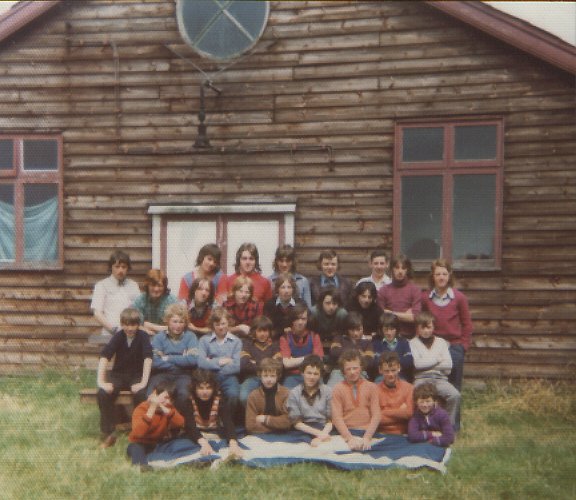 219th / 19th BB Camp in Skegness, England, 1973.

The 19th BB company came from Castlemilk East Church and every year we amalgamated to have a joint summer camp. I'm standing in back row last on the right, wearing a nice shirt with purple tank-top!

Top
1. Willie Robertson
4. Willie Alexander
7. Peter Cockburn
2. Bimbo
5. Mike Middleton
8. Will. McArthur
3. Jas Turnbull
6. Chris Drummond
(Capt.19th)

3rd Row
1.

Robert Robertson


4. Gordon Merrilees
2. Jim Howe
5. McGill
3. Alan Murphy
6. George Stewart
2nd Row
1. John Laird
4. Kenny Hastie
7. William Smith
1. Graham Park
5. Martin Howe
8.
3. David Fraser
6. William Evans

Front
1.
4. Brian Linsky
7. Billy Turnbull
2.Gavin Wright
5. James Rae (Smudger)

3. Stevie Millar
6.

.
More Skegness Photos

Sept.2002 Jim Howe ex 219th boy & officer
"..I remember the whole camp going to see the late comedian Tommy Cooper at the old Pier, He did this sketch where he walked into the mike stand and said sorry mike. We thought this was hilarious as it referred to Mike Middleton!..."
.
Apr.2014, email, Robert Robertson, age 57, Wiltshire, England

Just to let you know, I'm the person in the long red hair in the photo. I'm a cousin of Tommy and Wullie Robertson. I also went the year before to Whitley Bay. I left Glasgow in 1974, joined the RAF for 22 years, then just settled down in England with my family. your doing a great job with the site, brings back loads of memories. All the best for the future. (Row 3, No.1)


Any stories from this BB camp?...e-mail me.