229th Glasgow Boys' Brigade (formerly 3rd Cambuslang)

.

.
A social history of the BB in Glasgow
photos and memories preserved on GlescaPals for future generations.
www.glesga.ukpals.com
.

.



TIMELINE


The 229th BB began life in 1911 as the 3rd Cambuslang Company, attached to Rosebank Church, with its first captain being Mr John Reid.


~ ~ ~ ~ ~ ~ ~ ~ ~ ~ ~ ~ ~ ~ ~ ~ ~ ~ ~ ~ ~


* Session 1911-1912 the 3rd Cambuslang BB Company was formed attached to Rosebank Church, Cambuslang

* Session 1914-1915 the 3rd Cambuslang BB and 2nd Cambuslang BB merge. ( see 192nd 22 Sept 1920)

* In sesssion 1926 the 229th Glasgow BB was formed and was attached to Rosebank UF Church, Cambuslang

* Session 1929-1930 the company's church changed to Rosebank Church, Cambuslang

* Session 1967-1968 the company's church changed to St.Andrew's Parish Church, Cambuslang



.


* Session

2008

St.Andrew's Church merged with Trinity St.Pauls Church and the Old Parish

to become Cambuslang Parish Church

.



The 229th Glasgow Boys' Brigade company celebrated its centenary in 2011



Past and present members of a Cambuslang Boys' Brigade company took part in a series of events to celebrate their centenary.

The 229th Glasgow Boys' Brigade Company marked 100 years with various events held over three days. They started the weekend of celebrations on Friday, 21st October 2011 with an open evening in the halls of Cambuslang Parish Church.

A spokesman said: "As well as providing an opportunity to see what our boys get up to on their company night, it was also an opportunity to view photographs and memorabilia from throughout the company's life, with some items dating back almost to the very founding of the company.

"Saturday 22nd October night's event at Cambuslang Rugby Club was the centenary dinner."

Invited guests included company chaplain Rev. Leslie Milton, minister of Cambuslang Parish Church, and Tom Greatrex, MP for Rutherglen and Hamilton West. The evening was chaired by Robbie Tennent, who introduced the after-dinner speakers.

Warrant Officer David Young gave a toast to the Boys' Brigade, replied to by Alistair Burrow, vice-president of the Boys' Brigade.




Sergeant Lewis Tennent presented a toast to the 229th Company, replied to by John Neil OBE, honorary president of the BB movement in the UK and Northern Ireland.

Mr Neil paid particular tribute to three important figures in the history of the 229th – current captain Miss Jean Black, who has been involved in the company since 1964; Rev. Bob Bell, company chaplain; and George Sinclair, who twice served as company captain, in the 1960s and 1980s

Russell Smith, a former boy and officer, told many stories about his time in the 229th BB.

Entertainment was by folk group PiggeryBrae, three of whom are former BBs while band member Jim Ferguson, is a former 229th captain.

The final event of the weekend was a celebration service in Cambuslang Parish Church, which saw the dedication of new company colours. Among those present were South Lanarkshire Provost Russell Clearie, and Councillor Pam Clearie.

The spokesman added: "The celebration events were all well attended and brought memories flooding back for those who have been a part of the 229th. It was unanimously felt that the company shouldn't wait 100 years to hold another reunion!"

The 229th Glasgow Company goes back to the 3rd Cambuslang Company, formed in Rosebank Church in 1911.

The company have around 40 members across three sections – Anchor Boys, Junior Section and Company Section.
Rutherglen Town Hall, 2011
229th Glasgow Boy's Brigade Centenary
Captain Jean Black being presented with a commemorative obelisk by Provost Russell Clearie

2011 has seen the 299th Glasgow Boys' Brigade hold a series of commemorative events, but it was their turn to let someone else do the work when they were given a civic reception at Rutherglen Town Hall in December 2011.
Boys from the anchor boys and junior and company sections were joined by officers and invited guests for the event.
Cambuslang West councillors David Baillie and Clare McColl also attended with Provost Russell Clearie and his wife, Councillor Pam Clearie.
The Provost presented company stalwart and Captain Jean Black with a commemorative obelisk.
The Provost, himself a former BB, told the guests that the 229th continued to provide their members with "the fundamental building blocks to ensure that they develop into upstanding and indeed outstanding members of our communities. As an ex-BB boy myself, I know just how important brigade life is and how it has touched on so many people's lives. It really does give so many boys a great start in life.
"It is very much a team effort that has ensured the BB remains what it is today - an organisation that not only impacts on boys' lives but helps create good citizens and healthy communities as well."
The 229th BB began life in 1911 as the 3rd Cambuslang Company, attached to Rosebank Church, with its first captain being Mr John Reid.
However, when war broke out just three years later the 2nd and 3rd Cambuslang companies decided to merge.
The move was so successful that the boys resisted attempts after the war to break the companies up again and they became the 192nd Glasgow Company.
With battalion reorganisation the 229th Glasgow BB was formed in 1926 attached to Rosebank UF Church, Cambuslang.
In 1965, the company became affiliated with the new St Andrew's Parish Church, while a young female officer also joined - and 46 years later Jean Black is still there.
The company held a weekend of events in October 2011 to mark the centenary.
---
29th May 2008 at Glasgow City Chambers
Captain Jean Black with two of her boys who gained their Queen's badge.

The boys are David Young & Scott Laidlaw, giving Scott support is his parish priest Father Paul Morton from St.Brides chapel, Cambuslang.
Father Morton told me young Scott is a bit of a lad and he came to chapel one Sunday with a fitba top on with 'Gazza' on the back!

.
SEE 2008 The Queen's men parade and all the names

April 2015
It was the end of an era for the 229th Glasgow, Cambuslang Boys' Brigade Company as their captain is retiring after 30 years in charge.
Captainn Jean Black, who has been an officer in the company for over 50 years, has decided it's time to scale back her involvement and hand over the reins to someone else.
However that doesn't mean she's leaving the Cambuslang Parish Church based company entirely, as she will be continuing in her role as company treasurer.
Jean took over the captaincy in 1986, making her one of the first female company captains not just in Glasgow but in the entire organisation. Prior to that, she had been an officer in the company, beginning with the Junior Section in 1964.
Taking over from Jean will be Lt. Angus McColl, who has been involved in the company for 44 years as both officer and boy. He said: "I'm very pleased to have been asked to fill the position of Captain here at the 229th Boy's Brigade. "I've been in the company since my childhood, and having seen many friends and boys pass through the company go on to make great use of the object of the Boy's Brigade, I will endeavour to continue building the company, making opportunities for current boys and future ones to learn the habits of obedience, discipline, reverence, self-respect and true Christian manliness."
To celebrate Miss Black's service to the company, a special service is to be held in the church on Sunday 19 April 2015 at 10.30am. There will also be a social event on Friday, April 17 at Cambuslang Rugby Club. Current and former members of the company are invited to attend both events.
The Boys' Brigade is Christian organisation for boys and young men, with over half a million members worldwide. It was founded in Glasgow in 1883. The 229th Glasgow Company meet in Cambuslang Parish Church every Thursday evening from September through until May, and is open to all boys of school age. New members are always made more than welcome.
---
.
In 2021 Cambuslang Bowling Club donated a pool table to the local 229th Boys' Brigade Company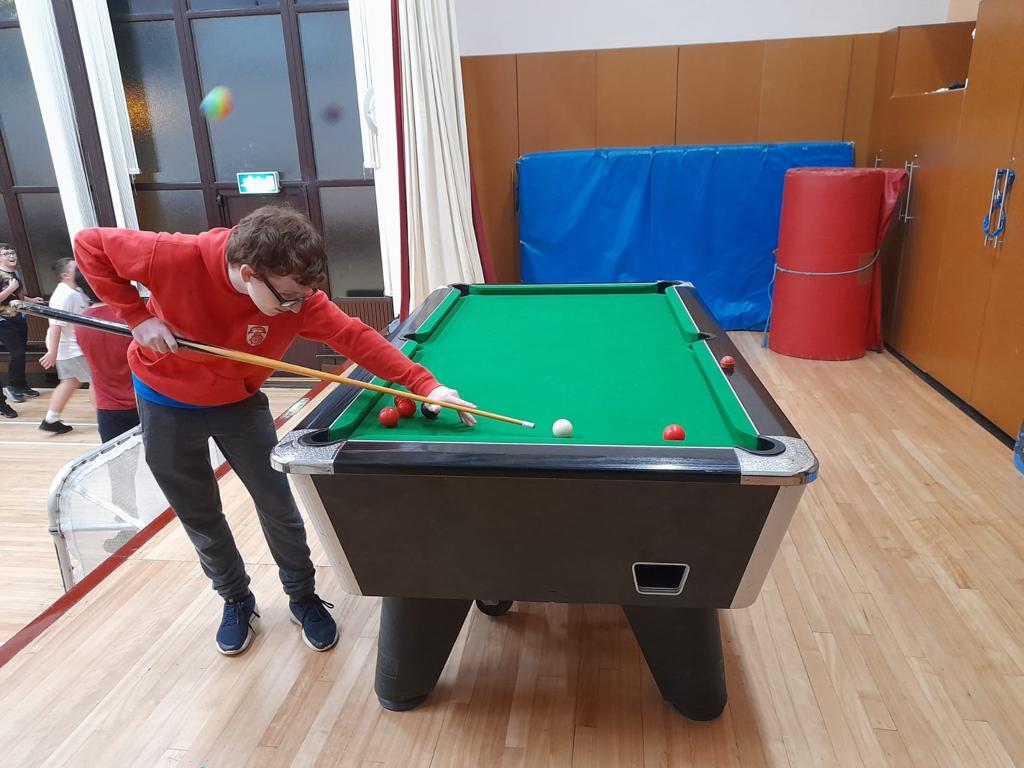 Pool skills at the Boys Brigade games night
.