| | |
| --- | --- |
| | Boys Brigade Glasgow Central Station 1954 |
A social history of the BB in Glasgow
photos and memories preserved on GlescaPals for future generations.
www.glesga.ukpals.com
..
Photo taken at Glasgow Central Station in 1954
149th Glasgow & 239th Glasgow BB Companies
before leaving for their BB camp to the Isle of Man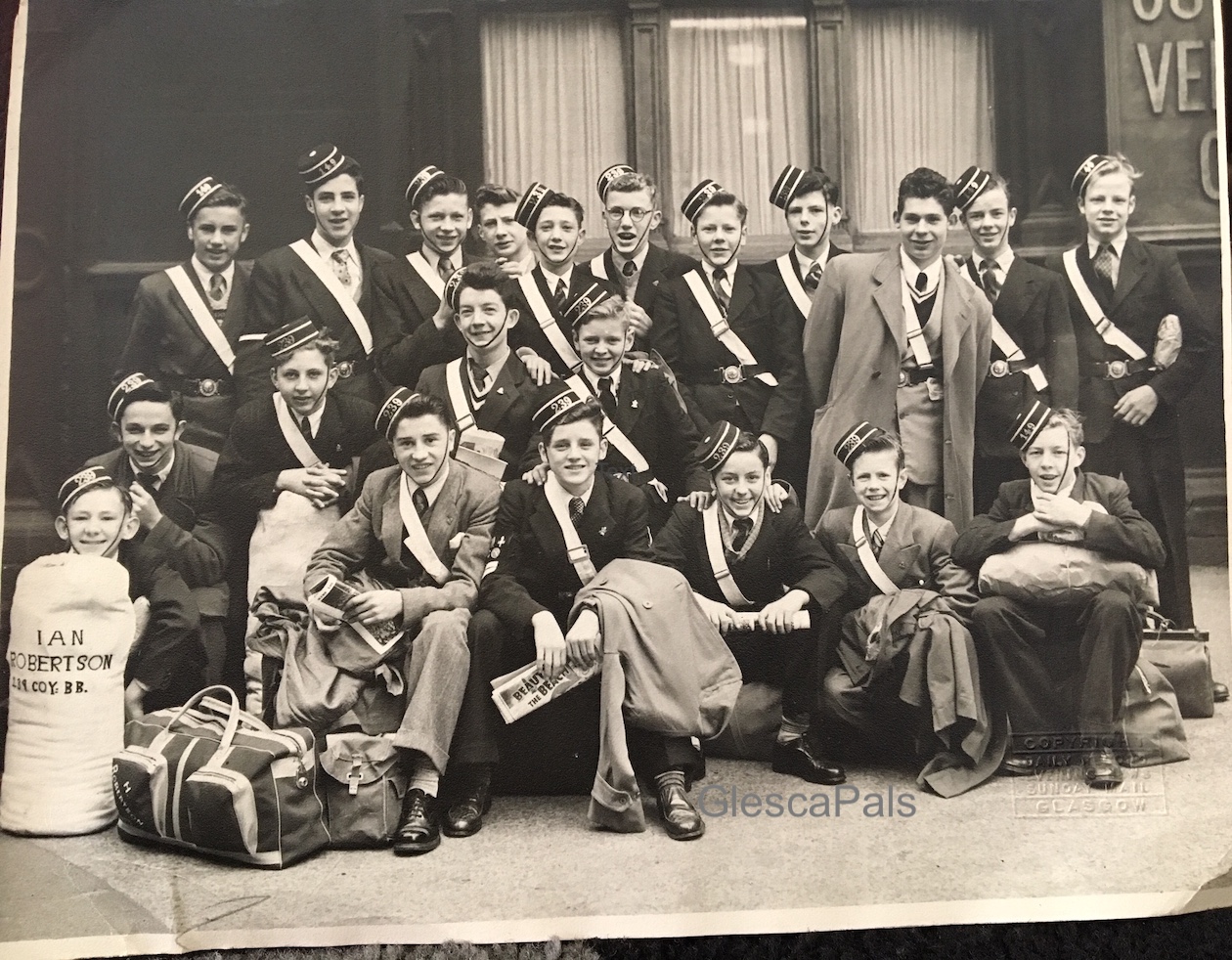 1
149 BB

2
149 BB

3
239 BB

4


5
239 BB

6
239 BB

7
239 BB

8
239 BB

9


10
149 BB

11
149 BB

1
239 BB

2
239 BB

3
239 BB

4
239 BB

1. Ian Robertson
239 BB

2.
239 BB

3.
239 BB

4.
239 BB

5.
239 BB

6. John Dallas
149 BB
Email, July 2019, Louise Crawford, (nee Dallas) Age 56, East Kilbride, Scotland
" I have a photo of my dad on a BB trip to Isle of Man. It's taken at Glasgow Central Station in 1954.
His name is John Dallas and he lived in Wolesley Street, Glasgow. He was 16 years old. "
Webmaister

:
Wolesley Street is in Oatlands. Does anyone have any info on these companies, any names for the photo?


Email, extract July 2019, Stuart Buchanan, The Boys Brigade, Glasgow Battalion, 67 Clifford St., Glasgow
Hi Will, Thanks for your message, your website is often one of my sources when I'm looking to find something without digging
through our archives so it's good to return the favour!

In 1954… the

149th Glasgow

was attached to Toryglen Church, the 1953-54 directory is the first time they're listed there. Looking at the church website the foundation stone was laid in May 1953.

The

239th Glasgow

was attached to Milton Church, Cowcaddens, they met in Dundas Vale School, New City Road, bible class was in the church hall, 29½ Milton Street.

We don't have records of the companies other than the directory section of our old annual reports. I don't know what the link would be, 149th were in Cathcart District and 239th in Kelvingrove District.

The Boys' Brigade, Glasgow Battalion
Ibrox Parish Church
67 Clifford Street
Glasgow G51 1QH

Tel : 0141 427 4051
Email : info@bbglasgow.org.uk
Web : www.bbglasgow.org.uk


Webmaister

:
Many thanks Stuart I greatly appreciate your reply and information.
See

149th & 239th Joint BB camps to Isle of Man in 1954 & Bangor N.I. in 1955

Donations gratefully received towards the running costs.
A lifetime honour and timeless photographs on the web