( Page 2 - inside church )
( Page 3 - old church mags )
Fairbairn Street has been renamed Fairbairn Path,
the church has also changed names, and is now an evangelical church.



Church
Dalmarnock Rd.
jcn of Fairbairn Street
in Bridgeton


(Photo taken Feb 2002 )

I have many fond memories of this church.

Below is a picture of Fairbairn Path taken from Dalmarnock Road.
The trees on the right are adjacent to the church. ( trees in Fairbairn Street !!! )
Unrecognisable to anyone who lived in the tenements of Fairbairn Street.

Fairbairn Path at Dalmarnock Road.
.
The church hall is called the 'George Gladstone Memorial Hall'
I spent many a happy hour in there as a member of the 175th BB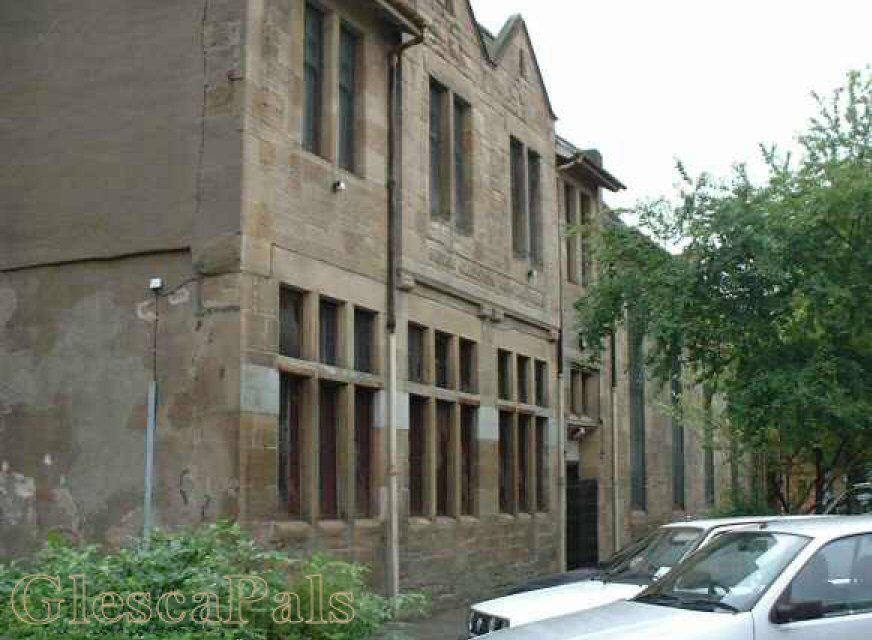 Photo taken September 2002
The main building in Fairbairn Street was Dalmarnock Congregational Church on the south corner of Fairbairn Street at 231 Dalmarnock Road. It opened in 1902 and was a congregational church until 1980. It is one of the few original structures left in the area and certainly the only building left from old Fairbairn Street. It is a Cat.B listed building, designed by architect John C. MacKellar whose practice worked on a variety of tenements, commercial, domestic and ecclesiastical buildings. This church building, which was listed in Dec.1970, is distinguished by its fine Art Nouveau doorpiece and swept roof. Prominently positioned on the corner site, it adds significantly to the streetscape of the area.

Band of Hope, Feb.2003 GlescaPal Peter Scott, Canada
Every Monday evening an orderly queue of boys and girls would form outside the Gladstone Memorial Hall adjacent to Dalmarnock Congregational Church in Fairbairn Street.
It was "Bandyhope" night, and, when the doors were open, there would be a frantic rush to get the best seats - boys to the left aisle - girls to the centre. But first an introduction:
The Band of Hope, to give it its proper name, was a body of volunteers dedicated to instilling in the minds of its young members a set of high moral values to take with them through life, based, as a first principle, on a total abstinence from strong drink.
The meeting began by the boys and girls reciting the Pledge in unison, led by Mr. Whiteside.
I promise here by Grace divine
to drink no spirits, ale, or wine
nor will I buy or sell or give
strong drink to others while I live
for my own good this Pledge I take
but also for my neighbours' sake
and this my strong resolve shall be
No drink, no drink, no drink for me
There followed an evening of entertainment provided by singers and dancers from various local church groups. Our Band of Hope had its own harmonica band led by Mr.Hastie. It was really very good, and gave concerts at many social functions in the East End.
The meeting closed with the Benediction and the members joining to sing songs extolling the virtues of temperance. One that I recall went something like this:
You'll never find me there, in a public house
in a public house, in a public house.
You'll never find me there, in a public house.
Oh, no! No! No!
(Hardly Rogers & Hammerstein - but what d'ye expect for a penny - the Orpheus Choir?)
On alternate Mondays, the lights were dimmed for a Lantern Lecture. The story was more or less the same for every show. For the sake of brevity the following is a synopsis:
Working man on way home from work with his wages is persuaded, reluctantly, by his mates to join them for a drink in a public house. In time the poor soul becomes a complete slave to the demon drink, in the process depriving his wife and family of the bare necessities of life. In one slide he is seen stealing pennies from the wee bairn's piggy bank. All ends happily however, when he is met outside the pub one night by an officer of the Salvation Army who leads him back to the path of righteousness and restores him, sober and re-invigorated, to the bosom of his family.
----- THE END -----
The story was told in a series of slides flashed on the screen with a running commentary by a gentleman on stage, while the lantern was operated by his assistant at the rear.
The commentator, in telling the story, used a "clicker" to signal to his assistant when to change slides. Invariably, some "wise guy" in the audience would have a "clicker" of his own, which he would click at random, seeking thereby to confound the whole operation and hoping, no doubt, to throw the audience into fits of laughter. It never worked. Both operators had been telling the same story at Band of Hope meetings for years, and were not fooled by the ruse. A warning by Mr. Whiteside to the miscreant to cease and desist was generally sufficient.
I don't think the Band of Hope survived the war, but after almost 70 years, I still remember the Pledge. Remembering the words is one thing, but fulfilling its premise - Well that, as they say, is another story.
I attended Dalmarnock Primary School, Bridgeton in the 1930's----