Picture Halls...." kin a go tae the pictures Mammy?"




The music hall advert in this photo dates from 1916..






1911

Olympia Theatre of Varieties opened with a seating capacity for 2000 people,
with a designed interior by Frank Matcham.
The exterior was designed by George Arthur

1924 changed hands to the Scottish Cinema and Variety Theatres, SCVT,
a pre-cursor to the ABC

1938 the auditorium was renovated and restyled in the Art Deco style by cinema
architects McNair & Elder which reduced the seating capacity to 1989

1963 it was renamed the ABC and closed as a cinema in March 1974

.



The Olympia ended its days as an ABC cinema in 1974 and reopened as a
Bingo Hall in

1978

till the

1990s

.

Then latterly became a furniture warehouse before sadly lying derelict at Bridgeton Cross for many years.



The facade is a listed B building..

.


The famous ABC Olympia picture house.......this was my favourite picture hall and the one I attended the most, I especially remember every Saturday morning going to the ABC minors...fantastic!
Age five upwards and only 6d to get in.
Long queues would form along Olympia Street all eagerly waiting on the doors opening, then the orderly rush into the plush seats. A great feeling once inside, the decorated façade, magnificent wavy purple curtain and thick cushioned seats gave this place a feeling of opulence.

[See a typical ABC minors picture hall from 1963 - the curtain, adverts, trailers etc]



ABC minors song -
- words were displayed on the big screen and you followed the bouncing ball and gave it laldy!
We are the boys & girls well known as
Minors of the ABC....
And every Saturday we line up,
to see the films we like
and shout aloud with glee !
We love to laugh and have a sing song
Just a happy crowd are we......
We're all pals together.... We're minors of the ABC


ABC minors badge

Hear the song on YouTube

'The show generally followed the same pattern: a short comedy such as Laurel and Hardy,
then cartoons, then a serial that ended with a cliffhanger to encourage us to return next week...... it worked!"

.
Extract from messageboard July 2003, GlescaPal, Frank Harrigan, Scotland
"........the ABC Minors at the Olympia? Takes me back.
There must be literally millions of those wee round tin badges that says 'ABC' - you know, the ones that glowed in the dark. Nowadays the only thing that glows in the dark is the effluence that floats down the Clyde.
And as for the Olympia - that was the East End's equivalent to the Odeon in the toon. When I was a lad, the Olympia seemed a posh place to me. Do you remember how the big chandeliers used to dim very slowly just before the start of the film?
My last recollection of the Olympia in all its glory was when they were showing 'Goldfinger' - the queues were massive.
A few years later I headed south. By the time I came back up here the Olympia was just a shadow of its former self, a forlorn building, its majestic presence and status as a landmark (to me) along with the Umbrella in Bridgeton - now becoming an eyesore."


Apr.2014, a poem by GlescaPal admin gal, 'Nell', Helen Ross, London.
Let's take a wee walk, doon memory lane
Back tae the sixties, re-live wance again.
Up tae the cross wi yir pals aw in tow
Gaun tae the Olympia tae watch a good show
Intae the wee shoap haufwiy doon the street
Canny make-up mah mind, a drink urr a sweet
The wumman's getting peeved, "Ahv no goat aw day"
"Awright then Missus, ahll hiv a wee penny tray"
Intae queue, haufwiy roon the block
Us weans urr aw shouting, and running amok
Oot comes the man, ah think it's a sin
Says "If yiz aw don't shutup, yiz urr no getting in".
That tobers us up and quietens us doon.
The queue's moving roon so we'll get in soon.
Intae the pictures, mah ticket ahv bought
Tae watch the film Jason, and thay Argonauts
Efter the fillum and oan the wiy hame
We aw take oan characters and play a wee game
Big Shugs says "ahm Jason, coz ahv goat nae fear"
Awright says Mamie then ahll be Medea.
Those days urr gone, bit don't shed a tear
The Olympia's stull therr, never you fear.
It's lookin quite splendid and ye know whit? By jingo
Wi a library and café at least it's no bingo.
Apr 2015,

GlescaPal Bill McKinlay Glasgow, Scotland


We went to the minors every Saturday morning we saw a couple of cartoons I liked Casper the friendly ghost, they were also a couple of fechters like batman and superman and my favourite was rocket man, the there was also a film usually Cowboys and Indians , pirate film ect. In Parkhead there were three picture halls in Parkhead the Granada in Duke Street, the Black Cat in Springfield Road and the 3 P,s. (Picture Palace Parkhead ) which showed the Minors. Happy memories.


Oct. 2015, extract from email,

GlescaPal Robert Muir, (age 76) Glasgow, Scotland


I went to several cinemas. 3 – 4 times a week. When young I went to the Olympia ABC minors, 6d (in old money).
Cost of the stalls was 9d, the balcony was 1 shilling and 1 shilling 6 pence (1s 6d) with half price for children. The manager wore a dinner suit and the Usherettes wore a uniform. I preferred westerns and thrillers and girlfriend liked westerns and romance. Laurel and Hardie and Abott & Costello.
I bought oranges from a barrow outside when I went with my parents when I was very young Remember the usherette (lady with the tray) came out during the interval and occasionally walked up and down the aisle with a torch and shone it on the tray.
There were always queues to get in – queued up Orr Street for the balcony and Olympia street for the stalls. We went to the chippie when we came out.


Oct. 2015, extract from email,

GlescaPal Willie Gibson

, Glasgow, Scotland
Webmaister, my fondest memory about the Olympia at Glasgow Cross, was the the concession for anyone under 15, if they were accompanied by adults. Subsequently, under fifteens on their own would have to pay a Shilling, 12d (5p), however when with an adult, half price i.e. sixpence.
We may have been very young but we quickly learned that if you approached a young couple the guy (perhaps keen to impress his bird) would not only agree to the 'request' you would very often be told "keep yer tanners son"
Fifty five years on I still like to tell people, with considerable qualification, no matter where I travel, that Glasgow people are the most generous people in the world. Great times , many good memories .


Oct. 2015,

GlescaPal Adeline Lynas

, Glasgow, Scotland
I remember going to the minors on a Saturday morning in the Olympia, before going in we would buy a barrs jubilee, packet of butterkist and a macaroon bar from Maxwell's sweetie shop, I think we paid 6d to get in. I remember they had a wee dance competition and I won a free pass for the next week for doing the Twist.
My Mammy took me to the Granada to see Madam X and Back Street and as Madam X finished I said to my Mammy oor Rita's (my sister) in here listen I can hear her greetin...and sure enough the lights went up and she was sitting with her pal along from us...


Nov. 2015, extract from Email, GlescaPal Rena Brown

, Glasgow

Hi Webmaister, the

Olympia

was one of more better ones, dearer to get into, I can't remember how much. The l
ast picture I saw in the Olympia was Bonnie & Clyde with Fay Dunaway and Warren Beattie. I liked the cowboy and Indian pictures, and we all cheered when goodies were on screen and boo when baddies were on screen.
The stars I liked very much were Barbara Stanwyck, James Mason, Doris Day, Clark Gable, Roy Rogers, Dale Evans and of course Trigger, could go on and on.


Nov. 2015, GlescaPal 'The Craw'

, David Crawford, Millport.

Saturday Minors,I used to go on stage at the interval and sing, if the audience thought you were the best, with a loud cheer,y ou got a free pass for the next week. I won my fair share of free passes, as did my pal Robert Clark.
I was honoured to have been a Monitor it made me feel so grown up,and trusted,when asked to help the Usherettes when loading their ice-cream for the interval.
My erse is still sore from skelping it on my way home,thinking I was on a horse. It cost ,sixpense to get in and I was 6 or 7 yrs old. I went with my older brother, then it was down to me to take my younger brother and then his turn,etc,etc.
The Olympia, No1 Entrance fee 1/11d for doon sterrs and 2/6d for the Balcony, never had much time for the Balcony,d on`t know why, was always content in the cheap seats. Olympia was very clean, posh, pallacial even. The Manager always had a smile on his face, always immaculate in his dinner suit and black patent shoes. The only gripe I had with The Olympia,was that there was little or no protection against the elements while waiting in the queue.
.
Building on fire 30th Nov. 2004
Photo from Garry Painter at www.survivingcinemas.org.uk
.




Sadly in November 2004 around 10.30 am
a massive blaze ripped through the old hall.

A man was found alive in the smoke filled building
but sadly he died later in the Glasgow Royal Infirmary.

The cinema had been getting used as an unofficial homeless
centre with a few people sleeping there to avoid the cold.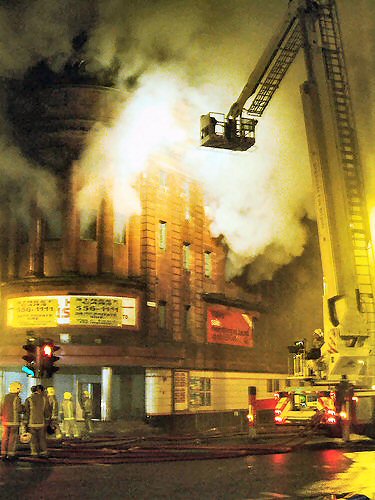 I hope this fire is not an excuse tae pull the building down.
I had been told that planning permission
had been granted for flats.
Provisio being that the Olympia facade was kept intact.
Now this fire.
I would hate to see another Brigton landmark demolished.
Thankfully the facade was saved and the building was transformed into the wonderful
Bridgeton Library
.
.





BLLHG - Bridgeton Local Library History Group

Produced this Booklet

"The Bridgeton Umbrella''
Recollections of Bridgeton's Past