GlescaPal stories from our past
.
Camlachie Cobblestones
Extract from messageboard, 3rd March, Hugh Morrow, Glasgow
The info I`ve got (via the Evening Times) is that in Yate Street at it`s junction with Camlachie St. some of the cobbles in that street were arranged in the form of a football boot and goalpost to commemorate the hat-trick scored by Jimmy Quinn (of Celtic) in the Scottish Cup Final of 1904 against Rangers in the first Cup Final to be played at the present day Hampden Park..
If in your quest you manage to discover where these cobbles are now (you can see the gap where they have been removed) it would be good to know, I suspect they may be in the Peoples Palace but I`ve never got round to verifying this.
Extract from messageboard, 3rd March, Jain McIntyre, Glasgow
The stones you are talking about are now outside the Bambury Centre in Barrowfield.
They were shifted about a year ago and I keep having to show people were the boot is cos they canny make it oot.
I think the boot, football and goal used to be painted white. I work in the Bambury Centre now which is were Elsworth Chocolate Factory used to be. I've dug up quite a bit of history - literally. The workmen who are building new houses on Mountainblue St found an old vitrified glass bottle from the Mountblue pottery that was there. Pride of place on my desk alang wi a few broken dishes n hawf a mug - which folk are claiming is fae the pottery as well. ahm no so sure maself! I just don't have any old photos of the old factories to show the kids.
Theyre gonnie write a book about the local history, how Barrowfield looks the noo (cos everyday there's a hoose coming doon an a new wan getting flung up) and whit they want to see in the future. There is a few faces roon here who've been here since year dot and it wid be good to show them a few old photies.
I'll take a photae ay the Bambury and the cobbles fur ye and find oot how to get it tae ye.
Extract from messageboard, 3rd March, Ronnie McPhee, London
Well Jain that a smashin wee story and its especially nice tae hear that the fitba cobbles have been preserved.
Extract from messageboard, 4th March, Charlie McDonald
The Ball,the Boot and the Goal had nothing to do with Celtic despite continual claims by their fans and the media. Originally it was claimed that it was a memorial to John Thomson and the latest one is it is a memorial to Jimmy Quinn's Cup Final hat-trick. Sorry to say that both accounts are wrong.
In my book 'Old Parkhead' I have listed the story that I had researched and that was the one of the workman who was being pestered by local kids as he repaired the cobbles and asked the kids to go and find odd shaped stones which he included into the cobbled street. After it was highlighted in the Evening Times by Alex Cameron there was a final letter from a grandson of a committee member of Bridgeton Waverley Juniors , who played at the bottom of Yate Street and Overtown Street, and he claimed that his granda had built it as a memorial to the now defunct Waverley. I have in my collection of east-end photographs a view of Yate Street looking up to the Gallowgate and it clearly shows the street was cobbled then in the 1890's long before Quinn's hatrick and the formation of Bridgeton Waverley.
Webmaister :- Thanks for clarifying this Charlie's book 'Old Parkhead' has a photograph of the 'famous' ball & boot. See extract from book below.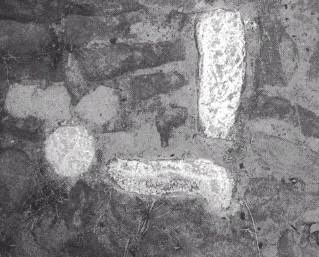 An interesting landmark, consisting of cobbles shaped in the form of a ball, boot, leg and goalposts used to be outside the the site of the Jail in Yate Street.
Many have tried to link it to the Celtic and Scotland goalkeeper John Thomson, who was so tragically killed whilst playing against Rangers at Ibrox in September 1931, but the story of the cobbles goes back further than that.

The landmark was constructed by a local workman named O'Malley who was carrying out some repairs to the cobble stones and was being pestered by local children. In order to carry on with his work he set the children the task of finding odd shaped stones which he shaped into this design
..