.
GlescaPal Josey ........ Joe Pritchard
..
2008
GlescaPal Josey was born in Glasgow's east-end on 8 Dec 1926
..

A Bridgeton boy from Ruby Street Joe remembers well the "steamie" and the highlight of his week
was his once a week bath, a 9p special with bath & towel.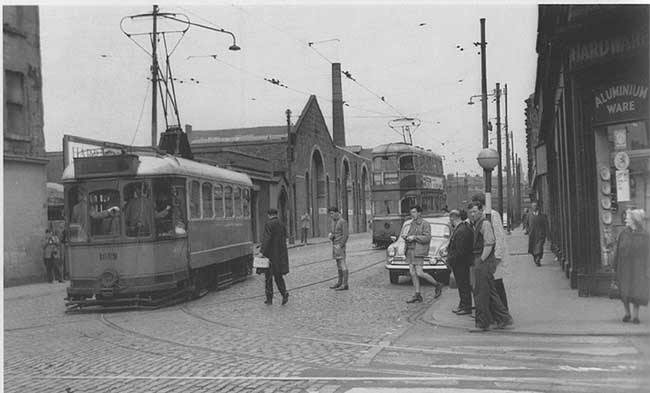 Ruby Street

Joe attended Dalmarnock Primary School and John Street Senior Secondary.
He was a member of the 155th Boys' Brigade company which met in the Methodist Church at James St.
David Letham was a sergeant in the company at that time.
Joe played Football, but did not get a chance to play at the Black Watch Barracks in Perth or Kinfauns Castle, where they were trained night and day for war.

It was not until he got to Egypt and the war was over that Joe got to play regularly. He played at both right back and at left back and Mike Haughney who was on demob at the same time as him signed for Celtic. Joe played for first class Amateur Teams, the
Post Office and after playing in an intercity game against Edinburgh a Scout came onto the team bus and asked hin to sign for them, he thinks it was Edina Hearts but not sure as it is a long time ago. They wanted him to transfer his job to Edinburgh, but Joe declined as then it was too risky.

Joe served with the Black Watch in Egypt in 1946 ... see his army photo
Joe Pritchard & Jean Doak married 3 April 1948
Scottish Episcopalian Church Clarkston Renfrewshire


Due to rationing still being in force in 1948, and Joe being on demob leave, the wedding was a family affair, with the reception held in Jean's Mothers house in Clarkston. The couple met when they both worked at the Head Post Office in Glasgow.


They emigrated to Australia on 12th July 1997 leaving dear old Glesga behind...
( Joe said "disappointingly there was no band to greet us on our arrival" )


I asked Joe about his life in Australia .....
He said "as for my life in OZ, it has been great. We had visited the family over there 5 times and on our last visit they said "look you are well into your retirement, so why don't you and Mum sell up and spend the rest of your time here". As we were lawn bowlers and played out of Newlands BC and I also played indoor at West of Scotland it was easy to get into our club here Jindalee BC.
I am a Past President of Newlands BC and I was a Director at the W of S Indoor in Rutherglen. I am also a Past President of Jindalee Bowls Club, where we play outdoor all year round due to our Sub Tropical weather, marvellous intit. As skip I have won two Club Championship Pairs,and a fortnight ago the Club Championship Triples. Not bad for an old fellow. I also won two pairs, three triples and a good number of Senior Singles at Newlands BC.I have also played at Cambuslang BC."
Regards GlesgaPal Josey, May 2008



Joe & Jean celebrated their Diamond Wedding Anniversary on 3 April 2008
see Joe's parents Thomas & Christian Pritchard marriage Certificate of Proclamation
Although Joe has been away from these shores since 1997 he still follows the
fortunes of the famous Glasgow Rangers FC

..
.... a lifetime entry in GlescaPals.......get your webpage .
.