.
GlescaPals get-the-githers the GlescaPals Hoose Party

Swally
People, from every corner of the globe, talking to each other, finding long lost pals and making new pals...aye GlescaPals.

.
.
GlescaPals UK hoose party swallys ...... Cambridge, Abergavenny
.....
.
GlescaPals in England
GlescaPals hoose party Swally in Cambridge, England 13-16 Mar 2009

Venue: GlescaPal Lizzy's place
GlescaPal Annie, 15 Mar 2009
What a weekend! It was FANTASTIC! The whole weekend was a laugh from start to finish. There was loads of photos taken BUT some of them are x-rated

and they cannot go on the board

if any one wants a copy then let me know.....NOT!

Thank you to our Hostess Lizzy for having us there and to her husband Raymond for putting up with us and letting us stay.....You are both BRILLIANT

also thank you to Wilmabaird for taking us to the airport

As Wilmabaird said "There were loads of photos taken so be prepared to be dazzled by them (no pun intended Dazzle

) I think we have had about 6 or 7 hours sleep the whole weekend so you might not see us for a while


Thank you to our very own Webmaister for this board as without you we wouldnt have all these parties and pals, on Friday night we had the good old fashioned hoose party with our drinks of water

and singing...whens the next one? Enjoy the photos everyone.
GlescaPal Nell, 16 Mar 2009, London
Saturday morning woke up early, this was the day I was to drive to Cambridge to meet the Pals for a wee night oot. Bag was packed ready so I had a shower and got on the couch with my duvet to read a few posts before I had breakfast and got ready to go. I had decided that I would pick up Karen's car around noon and set off from Karen's for Cambridge, she was to borrow my auld jalopy till I came back. As usual everything didn't go according to plan, and at the last minute I realised I hadn't packed a nightdress, so I went to get one, and every one I pulled out had hair dye stains on them. I said to John "Ahll hifty buy a nightdress oan the wiy tae Karen's". Cue fur an argument, efter 10 minutes of John telling me I should have got a nightdress ready before this, and me telling him I thought I had, I drove to North End Road, feeling less than happy and still annoyed at myself for not getting a nightdress ready. Went into Bon Marche, had a look around and picked a nightdress, not much choice, and they were all minging. Good job I wasn't going to spend the night with Johnny Depp

. Got the nightdress, and drove on to Karen's. Was showing Karen the nightdress and she said "Mum are you sure that nightdress will fit you", I looked at it and it said Large on the label, I said "Aye it's large it will fit me",
"But mum" Karen said "That nightdress looks as if it wouldn't even fit me".
I looked at the nightdress and it did look small, I pulled it round my chest and realised that it wouldn't go near me. By this time I was spitting nails. Got into Karen's car and back to Bon Marche and got another nightdress the same size and compared and it was nearly double the size. Took it to the counter still fuming, put my bag and the two nightdresses on the counter, I must have been having a hot flush, as I was sweating and flustered when the assistant asked me to change places with another customer, I said "wouldn't it be easier if you just came to this till".
"No dear" she said
Well that was it "I am not your dear" I said as I grabbed my bag the two nightdresses and humphed to the other part of the counter. The rest of the transaction was conducted in silence with me glaring at the assistant.

Left the shop got into the car and, at last, set of for Cambridge. I was a bit apprehensive about driving on my own as I have never driven that far on my own. But with the music blasting Neil Young, the sun shining and my mood improving by the minute. I was soon driving along singing at the top of my voice "Old Man Look at my Life, I'm a lot like you" happy as Larry and looking forward to the evening ahead with my pals. The rest of the journey was uneventful, except for when I nearly killed myself cutting across a white van man on the slip road to the M11.

Arrived at Lizzy's mid afternoon and all the gang were there. After a million hugs and kisses, Annie made me a longed for cup of coffee and Lizzy heated up a lovely big bowl of home made soup. We all sat round Lizzy's kitchen table blethering about everything and anything, and laughing, laughing, laughing. Lizzy had made us a big pot of mince and tatties (wi nae turnip)



it wiz delicious and just the job before going out for a drink. We formed an orderly queue for the bathroom and by 7:15 we were all ready for the short walk to meet up with Dazzle and Jim and Dorothy and Ian. Lizzy had booked a table for us in the pub, and the others were already there, another million hugs and kisses and our obligatory kitty, ah must say, we were lost for a while, without Norrie to look after the kitty, but we struggled by without him, Raymond ordered the first drinks and we toasted
GlescaPals
. I don't know what happened about the kitty after that, but I kept getting drinks so somebody must have took charge of it. The party commenced. Maryjane kept us all going with her jokes and I am sure you could hear the whoops of laughter at the other end of the village. Nae sing song in the pub, but that never stopped us making a lot of noise, and doing a bit of pole dancing for the locals. I paced myself by having one wine and one coke alternatively so never got paralytic. The wine was flowing and the company was excellent and the night passed all too quickly. Dazzle, Jim, Dorothy and Ian had to get a taxi back into Cambridge, and we all walked back to Lizzy's. Raymond who had left the pub a bit earlier had to get out of bed to let us in, poor bloke, surrounded by all these Glesga women. Time to blow up the air beds, I was to sleep in a bedroom upstairs, but I said I would sleep on the couch and mah wee Mary Carlin slept in the bed upstairs. After falling twice over the double air bag, and Annie running around doing everything for everybody, she's goat some energy that woman, we all went to bed, Wilma was on an air bed next to the couch, Maryjane and Annie were on a double airbed in the dining room, Carlin upstairs in one room, Rose and Mags in another and Lizzy and Raymond in another, we all went to sleep tired but happy.

Woke up Sunday morning with no way to hold my head that didn't hurt. Only kiddin, didny even hiv a hangover. We all sat around the table blethering as usual, Wilmabaird made the porridge, Lizzy made the squerr sausage pieces and Annie made the tea. Before we knew where we were it was time for Carlin and Annie to leave for their flight and Wilma was driving them to Sansted. Maryjane, Rose, Mags and I were going to London for the rest of the day. Millions of sad goodbyes and hugs and kisses and we set off in the beautiful sunshine to London. We had been driving for about 10 mins when we got a phone call from Lizzy telling us that I had left my jacket, I said "Just leave it there and I will get it next time I am up". It was a lovely drive to London, sun shining brightly and soon we were driving through the East End. I pointed out the "Blind Beggar" pub to the Pals where Ronnie Kray had shot George Cornell and as we drove nearer the city, we could see the Gherkin right in front of us towering above the surrounding buildings. We crossed London Bridge to see the beautiful view of London from the river, and drove past the London Eye we crossed the river again at Westminster Bridge. Down Victoria Street and lunch in a lovely wee pub near the coach station, we had Sunday lunch, Roast Beef, Roast Potatoes, Petit Pois, mixed vegetables and Yorkshire pudding. Next we drove to Harrods, and because I couldn't get parked we decided that the girls should go in and I would wait outside for them in the car, I had seen it a million times before so wasn't bothered. After around half an hour the girls emerged and we drove up to Picadilly Circus and Eros, then up Shaftesbury Avenue past all the theatres, Chinatown and Soho, back down Charing Cross Road to Leicester Square, St Martin in the Fields, The National and National Portrait Gallery, I showed them South Africa House where I had spent a lot of time in the eighties at anti apartheid demonstrations outside it, The Canadian Embassy opposite and The Mall and Buckingham Palace in the distance. Down Whitehall and I showed them where I worked in Whitehall, down past Horseguards Parade, the Women's World War II Memorial, 10 Downing Street, the Cenotaph, and on to Parliament Square and the Houses of Parliament, Big Ben, The Guy outside Parliament who has been camped there since the beginning of the Iraqui war, Westminster Abbey, and along Victoria Street, and New Scotland Yard, Westminster Cathedral and Little Ben. By this time we were ready for a coffee, but first I wanted to show them one more thing, we drove into Pimlico Road and Maryjane and Mags had their photo taken outside The Orange Brewery. We then went back to the pub where we had had lunch, Maryjane, Mags and Rose had tea and I had coffee and a fag, after another blether, we drove back to Victoria Coach Station and I was sad to see Maryjane, Mags and Rose walking away towards the coach station. I drove home feeling a bit tired, and a bit sad at leaving them, but delighted to have had the chance to meet them all again. I have said it before and I'll say it again,
GlescaPals
is the best site on the web and that is because it has the best people.
---
GlescaPals in Wales

Oor first GlescaPals swally in Wales! Organised by GlescaPal Scotty
GlescaPals Hoose party swally in Wales - 27 Nov.2010

Venue: The Market Tafarn, Abergavenny, Wales


a hoose party wi Scotty's band Blue Blisters


GlescaPal Scotty, Oct.2010, Merthyr Tydfil, S.Wales
Aah've booked ALL the rooms at the Tafarn fer the entire weekend, but need tae know who is arriving oan which days and how many nights therr staying so's aah kin try and allocate appropriate sleeping accomodation accordingly.
Viji & Janie urr lookin forward tae meetin and lookin efter aw ma Pals, and huv promised tae gie yuse aw the V.I.P.treatment, including a full cooked breakfast each morning.
If we run oot o bed space, therr's an abundance o similar pubs wi B&B within easy walking distance.
GlescaPal Scotty, 27 Nov.2010, morning of the GP Party !
Whit a day!!!
Aah wiz up tae de-ice both cars at 5am, even parked them oan the main road last night so's we wuldnae be stuck in the street this morning.
Next thing is aah goat a call frae Norrie tae tell me the flight wiz delayed "so's Cardiff could clear the runway" - it wiz, in fact, Glesca that hud the problems, as when aah rang Cardiff fer an update aah wiz telt that they wurr "Fully Operational" and all flights wurr arriving and departing nae boather!!

Eventually aah received a text frae Norrie tae let me know they wurr boarding "in 10 minutes" - that wiz a helluva lang 10 minutes, by my clock it wiz an hoor an a hauf!!!

Finally they landed at Cardiff and Colleen & I collected them and we set aff fer Abergavenny, me in front & Colleen following. Just as aah wiz accelerating ontae the M4, ma phone rang - it wiz Norrie, tae tell me they'd broken doon oan the M4 slip road. Aah telt hurr tae call the RAC, and we drove oan tae the next junction, turned aroond and went back. Poor Colleen wiz in a state, almost greetin. She'd only hud the car serviced a week ago and a new fan belt fitted, and when aah popped the bunnet open, there wiz the fanbelt spread across the engine bay.
When aah looked closer, aah noticed that there wiznae a belt pulley oan the alternator, but aah looked aroond the engine bay, and therr it wiz, together wi the special retaining fixture.
Unfortunately the RAC chappie said it wiz a common problem, and wiznae repairable, so aah eventually goat him tae tow the car tae Colleen's garage, transferred ClaireM intae ma motor, and left Norrie wi Colleen and the RAC.
Plan "A" wiz tae get the lassies tae Merthyr Tydfil fer a cuppa, then aah wiz gonnie collect Norrie & Colleen, bring them tae Tescos tae mee the others, then Norrie & ClaireM wurr gonnie catch the Abergavenny bus, and aah wid take Sophie, Maryjane, and Mags in ma car.
Oan the way tae Merthyr, the wummin wurr gabbin, as they dae, and suggested that rather than dae that, they wid aw get in a taxi, which aah estimated wid be aboot £50 fer a people carrier, then, mannah frae heaven, jist such a vehicle preceeded us intae the car park.
Me, being me, accosted the driver and asked how much tae take 5 passengers tae Abergavenny. He ummed and aah'd a bit, so aah said "They kin get oan the X4 bus fer a fiver each!", so he said "£35 fer the lot then" - "Done!"

That left me free tae drap Colleen aff, then travel back doon the valley tae get ma amplifiers etc fer th'night's GP HOOSEPARTY!!
Aw the kit and Caboodle is now loaded, and aah'm back at the flat tae huv a wash, chainge and breakfast, then we'll be jinin the ither Pals a wee bit later.

GLESCAPALS YA BASS!!!




GlescaPal
Scotty, 28 Nov.2010,
Norrie and Clairem, wi help frae Annie, Darren & Emma, made a grand joab o puttin up the flags and banners, and aw the local folk goat intae the "Party" spirit, but they couldnae out-sing the GlescaPals.

Wee Emma wiz celebrating hur 15th Birthday, so we laid oan a cake.

The wee video snippet o The GlescaPals Song, featuring Webmaister, Webmaister o' this fabulous site, which made the entire event possible - and a toast tae Absent Pals tae open the furst ever Welsh GP Hooseparty.

GlescaPal Annie travelled tae Wales wi her son Darren and daughter Emma
who was 15yrs old on the 25th November ..... A lovely birthday photo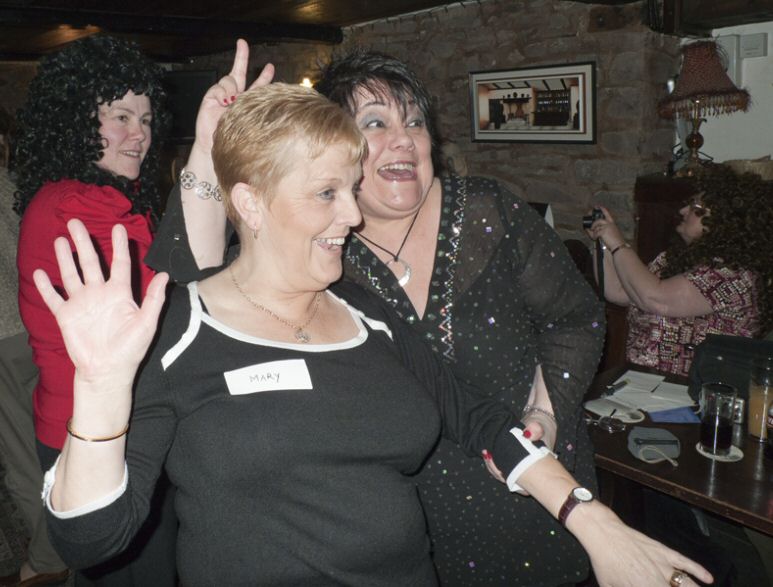 GlescaPals Annie, Maryjane & Dazzle






GlescaPal Jim thinking
"whit the heck dae ah look like wi'
this daft wig oan?"



GlescaPal Mags ( real herr ) thinking
"ah wunder how much ahve gote in mah
purse? I'd like tae buy that wig aff Jim"
GlescaPal admin man Norrie


"I'm quite sexy looking wi' herr
ah wonder if Blue Blisters urr
looking furr a lead singer"


The GlescaPals 1st Welsh Hoose Party - and whit a great swally it wis !!!

A toast tae absent GlescaPals ... at or near the hour of 9pm


ah think admin gal threw her tumbler intae the ceiling!

Lizzy drapped hers! And Ian forgot tae buy

Dorothy ah drink!
GlescaPal Dazzle, Nov.2010
Crossing the Severn Bridge, it costs ye £5.50 tae enter Wales but nuthin' tae come oot


GlescaPal Nell, Nov.2010
It cost us £10.90, the man said tae me, "Ah Peugeot Partner is classed as a van, ahm sorry", ah said "Naw ye urny, if ye wurr ye wid let me through fur £5.50", he said "I can't, but I like your cheek", ah said "Ahll tell ye something, ye don't hifty piy tae get intae Scotland, and it's goat better scenery"

People, from every corner of the globe, talking to each other, finding long lost pals and making new pals..... aye GlescaPals.
.

..

..

.