St. Mary's RC Primary School c1957
Photograph from James McTaggart ( Sydney, Australia )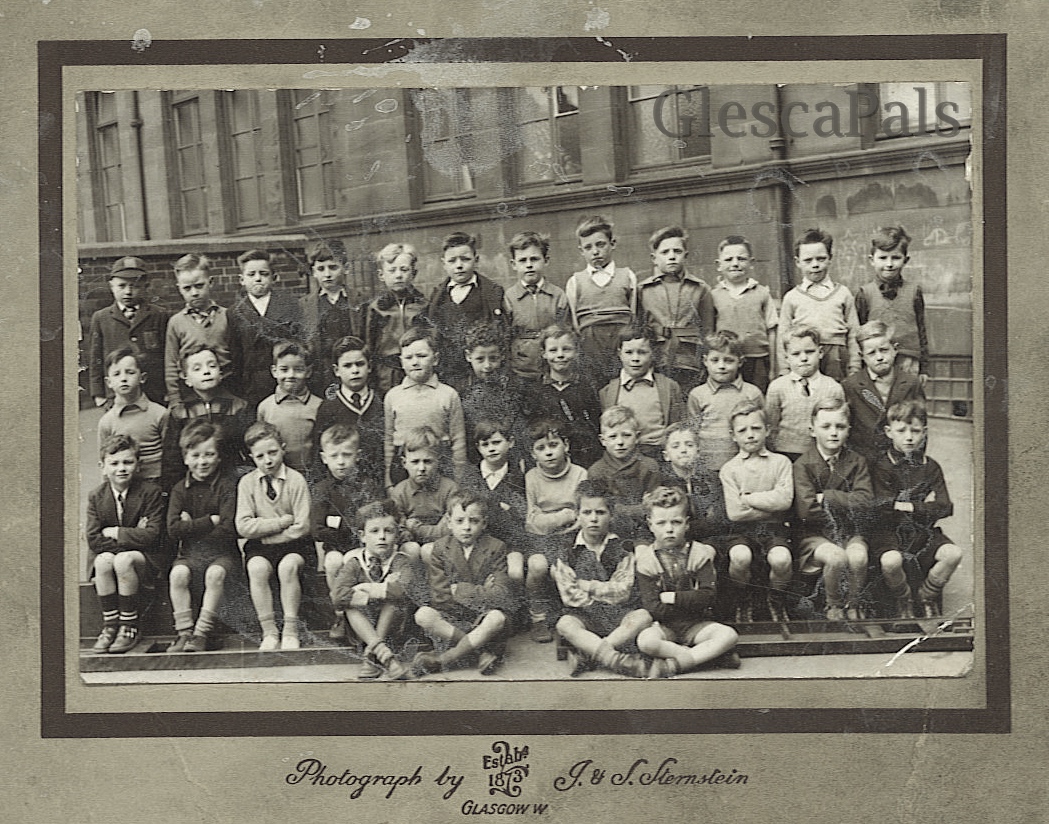 Top Row
1.
5.
9.
2. Ricky O'hare
6. Eddie Hamilton
10
3. .
7
11 James McTaggart
4.
8.
12
Third Row
1.
5.
9.
2.
6. Bunty McGarvie
10
3. .
7
11
4.
8.

Second Row
1.
5.
9.
2.
6. Peter Hughes
10
3. .
7
11
4.
8. James Cochrane
12
Front Row
1.
2.
3.
4
Please contact the Webmaister if you can put a name to a face or have a tale to tell


.
Oct.2004, Extract from e-mail, Ann McTaggart (nee Cartwright), Sydney, Australia
Hello Webmaister...I have just been told about your wonderful website. Thanks for the memories. You are not going to believe who this is!!!. It's Ann Cartwright....do you remember me?. I lived right up above you in Fairbairn Street. This is truly amazing. I do not have any old school photos but my husband James McTaggart has one. I am sending it to you. He is not sure how old he was at the time, but thinks it's approx.1957 he is aged approx. 8 years. Wull, once again this has been a lovely trip down memory lane and I am looking forward to spending a lot more time on your website. I hope to hear from you soon. Ann McTaggart (nee Cartwright, Sydney Australia). G'Day Mate !!
Webmaister :- Ann of course I remember you and your family, we all had great times back then in Fairbairn Street.
You had a big sister June and next door to you lived the Rinns family. Your Mammy helped deliver my wee sister Janice in July 1963.... I was 9yrs old at the time and remember all the commotion as Janice was born in the house.

June 2013, Extract from e-mail, Willie Daly,
St maryscalton 1957shool photo Top row2 Riky O'Hare, 6 Eddie Hamilton, 11 James McTaggart
Thirdrow 6 bunty Macgarvie, 2nd row McKinley,6 peter Hughes,

Dec 2016, e-mail, Margaret Cochrane, Glasgow, Scotland
Hello Webmaster (Wull) This is James's Cochrane's wife Margaret contacting you on his behalf His Brother John who is 3 years younger (64 now) brought your webpage to our attention.
James's family eventually moved to Easterhouse and expanded to 14 children At the time of this photo there would have been 5 children. Really keen to get copy of photo as 6 grand children would like to see their Granda aged 8. He is number 8 row 2 in photo


.

Donations gratefully received towards the running costs.
lifetime honour and timeless photograph on the web
A lifetime honour and timeless photograph on the web
for family and friends to enjoy
.