Streets of Glesca ...........Martin Street .........Bridgeton


Martin Street, Bridgeton taken from the junction of French Street looking towards Colvend St
Tenement houses that were here have been demolished.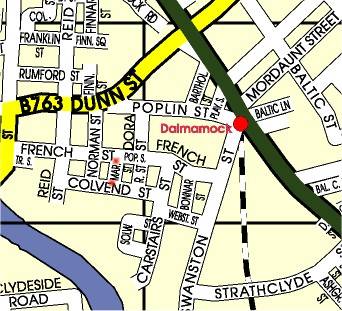 Extract from guestbook. 9th Nov.2004, Jim Reid, Germany
".....I'm a regular visitor to the website and have just seen the one and only photograph of what is left of Martin St.
On the corner facing the camera used to be the Bookies where me and ma cousin Louise used to get pennies aff ma great granda Reid, next to that wis the "wee Dairy shoap" (just about level where the car is sitting). Then you had the first close where a lived wi ma Maw and Da and wee brother Brian at No 11.
Up the next close lived ma granny Reid at No 19. Next tae that close wis Jimmy Flannagan's the newsagents where I used to get ma "Lucky Bags" and sherbet. Off the photo to the left of the Bookies on the next corner, used to be Rockcliffe Church where ma Maw 'n Da got married. .............I've lots of good memories of that street, it's shame to see it like that now..
~

.