Streets of Bridgeton
Ruby Street at Dalmarnock Rd
Ruby Street,
Dalmarnock Tram Depot
See more Tram photos


June 2002, Extract from e-mail, Tom Taylor, Aberdeen, Scotland
"This is a photograph of the Ruby Street of my young days, and has already brought back a flood of memories. It's the site I saw from my bedroom window for the first 12 years of my life...... a great photograph".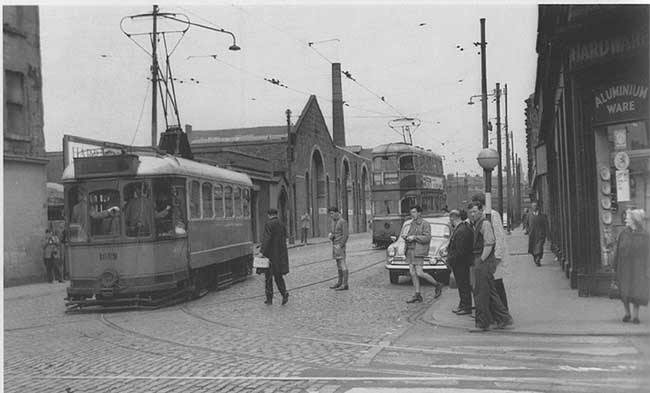 Ruby Street taken from Dalmarnock Road This is one of my favourite photographs !
See the tramcar depot over on the left. The steamie was across from it.
The corner hardware shop was owned by Mr.Crann, his son John Crann, who was a pupil at Dalmarnock Primary, was in the year below me and was the Dux of the school in 1966. The zebra crossing took you over to Dale Street.
The Ruby Street depot was built in 1893 when all the city's trams were horse-drawn, and could accommodate over 300 horses. It was adapted as a car depot when the system was electrified a process completed in 1902. It was pulled down in 1967..........

This painting was done by GlescaPal '
Glesca Artist
'
Dalmarnock Road looking into Ruby Street
The low building halfway up the street was 'the steamie' which was opposite the tram depot.
My mammy did her big washings there and there was also an area of cubicles which housed rows of baths.
As the houses in this area only had outside or inside toilets but no baths, this was where we went to get a bath
.
Dalmarnock Road looking into Ruby Street
This was the area I was brought up and these old photos evoke many memories, up to the right is
Dalmarnock Congregational Church in Fairbairn Street, I lived two-up at number 74 Fairbairn Street
~ ~ ~

Ruby Street at Dalmarnock Road . Ruby Street taken from roughly same spot as the old photograph above.........
Tenements, Tramcar depot, the steamie all gone. High rise flats now dominate and Ruby Street at this junction is now just a pathway.
see more Ruby Street at Dalmarnock Rd
RUBY STREET weans
c1934

RUBY STREET weans

~ ~ ~

c1948

4th May 2002 Extract from e-mail, Tom Taylor, (email tba ) Aberdeen, Scotland
"I lived in Ruby St, opposite the tram depot
Most of my time at Dalmarnock was during the war I played football for the school under Mr French and always remember marching into class four abreast to a teacher playing a marching tune on the piano at the top of the stairs. enjoyed my time at Dalmarnock school."
July 2002 Extract from e-mail, Peter Sheilds Scott, (email tba ) England,
"I'm going to raid everyones old photos, by the way, that photo of Dalmarnock Road & Ruby St, the old metropolitian car across from the tram was my stepdads . Our family had the four houses above Marrownelly,s Cafe just on the left of the car. I've never seen this photo before"
March 2003 Extract from e-mail, Chris MacKenzie (nee Pritchard), (age 71-80), Glasgow, Scotland
"...brings back a lot of memories. I was born at 48 Ruby Street and lived at 70 Ruby Street until I was married in 1951. then I lived at 11 Cornfield Street until I went to the USA in 1962. I returned to Glasgow in 1988.
Thanks again for great site, enjoying memory lane. and the message board."
June 2003 Extract from guestbook
,
Geraldine Clarkson (nee White)
Australia (age 51-60)
(email
tba
)
"
Last time I visited your website I told you I had the original Ruby St. sign and I was really blown
away this time with the photograph of Ruby St., it brought back so many memories. I left there 1952, age 6 and don't really remember too much except we lived in No. 48, top flat and down stairs neighbours were Mary and Tom (cannot remember surname, could have been McKay). I called them Mamie and wee Daddy as they were little people and I loved them dearly. My parents, Richard and Betty White had a business and this couple looked after me from time to time. My parents told me they used to put me in my pram across the road right outside the office of the tram depot where they could watch me and the workers all knew me. This is not something that could be done today but back then I was very safe. I was wondering if anyone can remember me, my parents or Mary and Tommy?"
see more Ruby Street at Dalmarnock Rd
.