.
Argyll was a Scottish motor car marque manufactured from 1899 to 1932.


1899-1905

Hozier Engineering Co of

Bridgeton, Glasgow


1905-1909 Argyll Motors Ltd of Alexandria, Dumbartonshire
1909-1914 Argyll Ltd of Alexandria, Dumbartonshire
A car factory in Hozier Street, Bridgeton.
This 1905 photo depicts the Argyll Motor cars en route from Hozier Street to a railway goods yard.
The Hozier Engineering Company was founded in 1899 by Mr Alexander Govan & Mr.W.A.Smith to make the Argyll motor cars.

Hozier Street Map 1896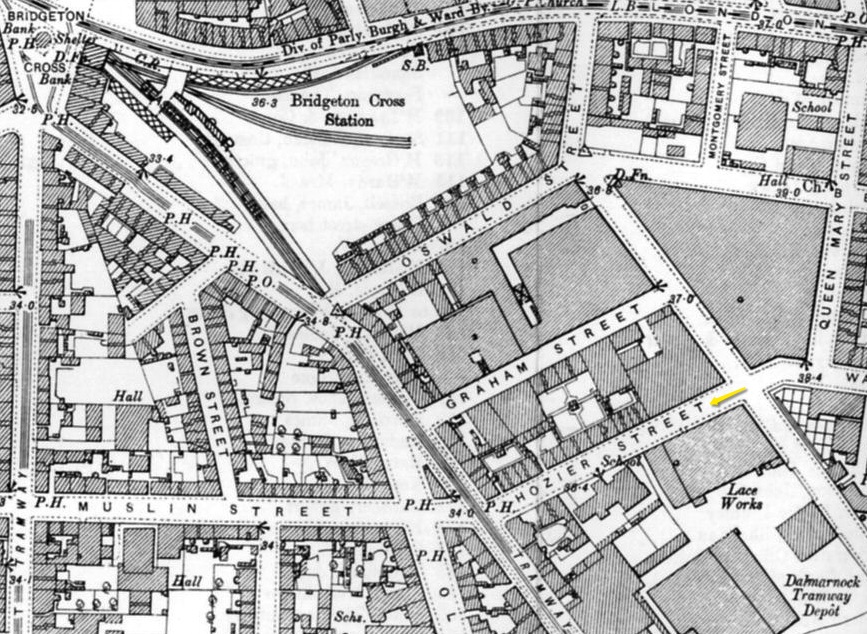 .
By 1904, the Hozier Street factory was working nightshifts to produce between 20 and 25 cars per week. Despite this large output demand exceeded supply and the company claimed to have £100,000 worth of orders outstanding.

Larger premises were required.
The company outgrew the premises in Bridgeton and relocated to Alexandria to a purpose built factory in 1905. The Hozier Engineering Co. was liquidated and a new firm, Argyll Motors Ltd formed
.
.

Old Glesgc Dustbin lorry Photograph cc1961
...........or as youse folk across the waater call them 'refuse collectors'
Which is a very good name tae call them, cause here in Glesga they often refuse tae collect yer rubbish!

Glaswegian Harry Davidson wrote to tell me that " the vehicle is a Garrett type GTZ. 40 odd of them were built at Leiceston in England and worked double shifted [day & night] from 1928 to 1964. Quite a remarkable feat for what was Edwardian engineering. They are unique to Glasgow. Birmingham Leeds and Hackney had some but not on the Glasgow system. The city was far ahead of its time. In 1928 it generated the electricity by incinerating the rubbish at Govan RPW to charge the 80 odd [2.5 ton] batteries that powered he fleet."

.